SOUND COMPOSITES ARCOTECH FINGERBOARDS... THE EBONY ALTERNATIVE
Sound Composites Arcotech carbon graphite fingerboards are competitively priced direct replacements for standard Ebony wood boards. These durable classical-styled stringed instrument fingerboards produce even and warm tonal characteristics while dramatically reducing repair and replacement.


Violin Fingerboards
In essence, Sound Composites Arcotech fingerboards contribute to high quality tone production. This is due to the consistency of the material surface, coupled with the tremendous ability of the 'tonally filtered' carbon fiber to move sonic information through the neck beam.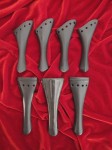 Violin Tailpieces
Sound Composites offers extremely durable and remarkably lightweight carbon composite violin tailpieces weighing 6.25 grams The average wood violin tailpiece weighs 15 grams. On violins (and cellos) only, a tailpiece of lower mass vastly improves the instrument's responsiveness and tone generation.