Upright Bass and Cello Fiber Optic Position Markers & Inlay
Position Markers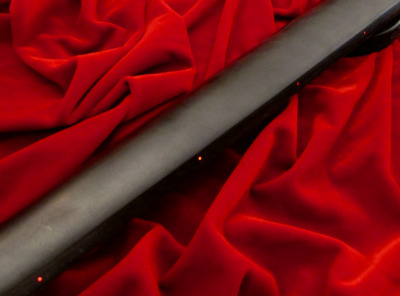 Sound Composites offers fiber optic position markers as an option on all cello and double bass fingerboard models. Fiber optics are a optional tool that can aid the musicians intonation accuracy under limited light situations. When not required and left unlit, these dots are invisible. When lit, the 2 mm dots are subtle and not blindingly bright as with LED position markers. This fiber optic position marker system is centrally illuminated by one (or two for face and side dots) hidden LED using one easily replacable watch-style battery. This extends battery life light years beyond traditional multiple LED position marker neck technologies. Interchangeable color choices include Red, Gold, Blue or Green. The Sound Composites Arcotech fingerboard is sold with an easily accessed snap-in battery/LED/switch unit that is inset-mounted under the fingerboard portion as it extends over the instrument body. Therefore, these position markers function right out of the box and do not require any work by the fingerboard installer. Notably, should the player wish to change the position marker color, the power unit may be simply removed and replaced. In effect, there are no inaccessible electronics as with the alternatives.
Side and Face Position Markers: Add $150.00
Side Position Markers only: Add $100.00
Inlay
Sound Composites is pleased to offer custom fingerboard inlay as an option on all models of Arcotech fingerboards. Elegant Mother of Pearl and/or Paua inlay is meticulously hand-cut by talented artisans to insure that each piece maintains its individual character and beauty. Sound Composites inlay craftsmanship is flawlessly clean. Please inquire for information on the specific design that suits your aesthetic taste.